New Book
So many things in life happen randomly. One night in 2010, my friend Jake posted a link on Facebook to nine 100-word stories his father, Paul Strohm, had published with the literary journal Eleven Eleven. It was late, my eyes were blurry, but I clicked on the link and became intrigued by the series of tiny tales that were part of his memoir, Sportin' Jack, which … [Read More...]
Writing Projects Large and Small
I found my creative and professional home in NaNoWriMo. Let's just say writing with abandon suits me.
It started out as a random writing experiment. It led to co-founding a lit journal. And writing hundreds of 100-word stories.
Recent Writings
Life By the Bay: A Moveable Feast That Moved When I Wasn't Looking
May 2021
To live in the Bay Area is to wonder whether or not to leave.
That was going to be my first sentence of my story. Then I was going to tell you about the nearly thirty-year conversation I've had with my wife, the writer Heather Mackey, about whether we should move to a place more hospitable to a couple of writing-addicted people, a place where you don't have to duct tape your finances together to live, a place that's perhaps more pastoral and certainly less pressured. It's a conversation that has traipsed through a myriad of options of where we might go.
13 Ways of Looking at Flash Fiction
Lit Hub, August 21, 2020
An interviewer once asked me, "If flash fiction were an animal, which animal would it be?" I considered a chicken because you can peck at the stories. Perhaps a badger because short shorts sometimes have to be more tenacious than their larger brethren. I thought a fish was apt because tiny stories often swim together. I almost decided upon a cat because a cat can fit perfectly in your lap, and even as you pet it and listen to its purrs, it stares at you with a mysterious menace.
Rejection's Gift: Divine Dissatisfaction
Poets & Writers, January/February, 2020
We writers tend not to give rejection the love or respect that it deserves. We speak ill of it, as if it's a malevolent demon, a destructive force, an uninvited guest that ruins our party. We revile it. We curse it. We reject it. Because rejection is a damnable, despicable thing that seemingly aims to only hurt and hinder. It gives us no warmth, no love, and we writers need love; in fact, we don't just need love, we need love in bounteous, fulsome heaps. We want editors to gush over our words like a teenager with a crush. We want readers to slather us with adoration.
Imagination Under Pressure
Poets & Writers, January/February, 2018
I've started to see the constraints of my life as advantages in disguise. I've observed many a person with time on their hands fritter it away, and then have the audacity to complain about not having enough time to get anything done. I've come to realize that our imagination doesn't necessarily flourish in the luxury of total freedom. Our imagination thrives when pressure is applied, when boundaries are set.
Naked (On the Page) and Afraid
Writer's Digest, July/August 2015
Good writing requires courage—first to give voice to the truth at the heart of every story, and then to share it with a world of readers. The only way to achieve that is through an openness of spirit that can feel dangerous—or even be dangerous. Here's why embracing vulnerability could unlock important doors for you, your writing, and your career.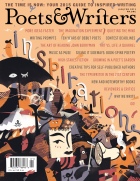 More Ideas Faster: Writing With Abandon
Poets & Writers, January 2015
A few years ago I grappled with a simple question I had never before bothered to ask myself: Did I decide on my writing process, or did it decide on me? Despite an adult lifetime of reading innumerable author interviews, biographies of artists, and essays on creativity, I realized I'd basically approached writing the same way for years. And I didn't remember ever consciously choosing my process, let alone experimenting with it in any meaningful way.
Going Long. Going Short.
New York Times Draft Blog
I've always wanted to go long, as in writing that big behemoth of a saga called the "Great American Novel," no matter the absurdity of questing after such a holy grail. I thought the best way to understand the endless ribbons of America's highways, the oozing boundaries of our suburbia and the rhythms of life they induce in us, resided in an ever expansive aesthetic of maximalist comprehensiveness, full of crisscrossing tentacles of story lines and sentences bursting with syntactic curlicues. …
Six Stories About Gerard and Celeste
(Part of a longer series)
Paragraph Magazine's 100th Issue
After he had children, Gerard saw each person as another's son or daughter. The pinch of worry in a mother's eyes just after midnight. The dreadful, slow wait until the front door creaked open once again. Safety. Or was it? He wanted to tell Celeste he touched her with such care, even as they lay in the strewn sheets of another cheap hotel room. ...
Morphine Drip
Green Mountains Review, Spring 2014 Issue
"It's what we remember," Dad said, as if clinging to a frayed thread tossed to a man overboard in a storm. He said something about a boy named Jim, his pants down to his ankles, his tuxedo shirt unbuttoned. Long baby hairs on smooth cheeks. Frogs croaking in the woods, gin rickeys under an August moon, the violet night. Outside a few parked cars, inside the ruckus of others. "Never underestimate the comfort sin can provide," he said. "A lifetime of bedtime stories all to your lonesome." Skin crinkled around his eyes. His dry lips pressed feebly around a straw.