Upcoming Appearances
Berkeley Public Library Foundation Annual Authors Dinner
Saturday, February 8, 2020
Berkeley City Club
San Francisco Writers Conference
February 12-14, 2020
Hyatt Regency
San Francisco, California
Select Recent Appearances
Sierra Writers Conference
February 1, 2020
Lit Crawl: Flash Fiction Collective
Oct. 19, 2019
Literary Death Match
October 15, 2019
Flash Fiction Collective
January 10, 2019
Today at Apple
November 17, 2018

CreativeLive: NaNo Prep Week
Week of October 22, 2018
Litquake 2018: Celebrating Nothing Short of 100
October 20, 2018

Launch Party: New Micro: Exceptionally Short Fiction
September 6, 2018

BookCon: The Art of Writing with Abandon
June 2, 2018

Launch Party: Nothing Short of 100
---
Bay Area Book Festival
April 28, 2018

---
Bookshop Santa Cruz
March 8, 2018

---
Live Podcast with Scriptnotes host John August
February 5, 2018

---
Kepler's Literary Foundation Master Class: Grant Faulkner with Jan Ellison
February 1, 2018
---
Copperfield's Books: In Conversation with Ellen Sussman
January 28, 2018
---
CreativeLive: Develop a Creative Mindset and Write!
January 15, 2018
---
NaNoLitMo
October 25, 2017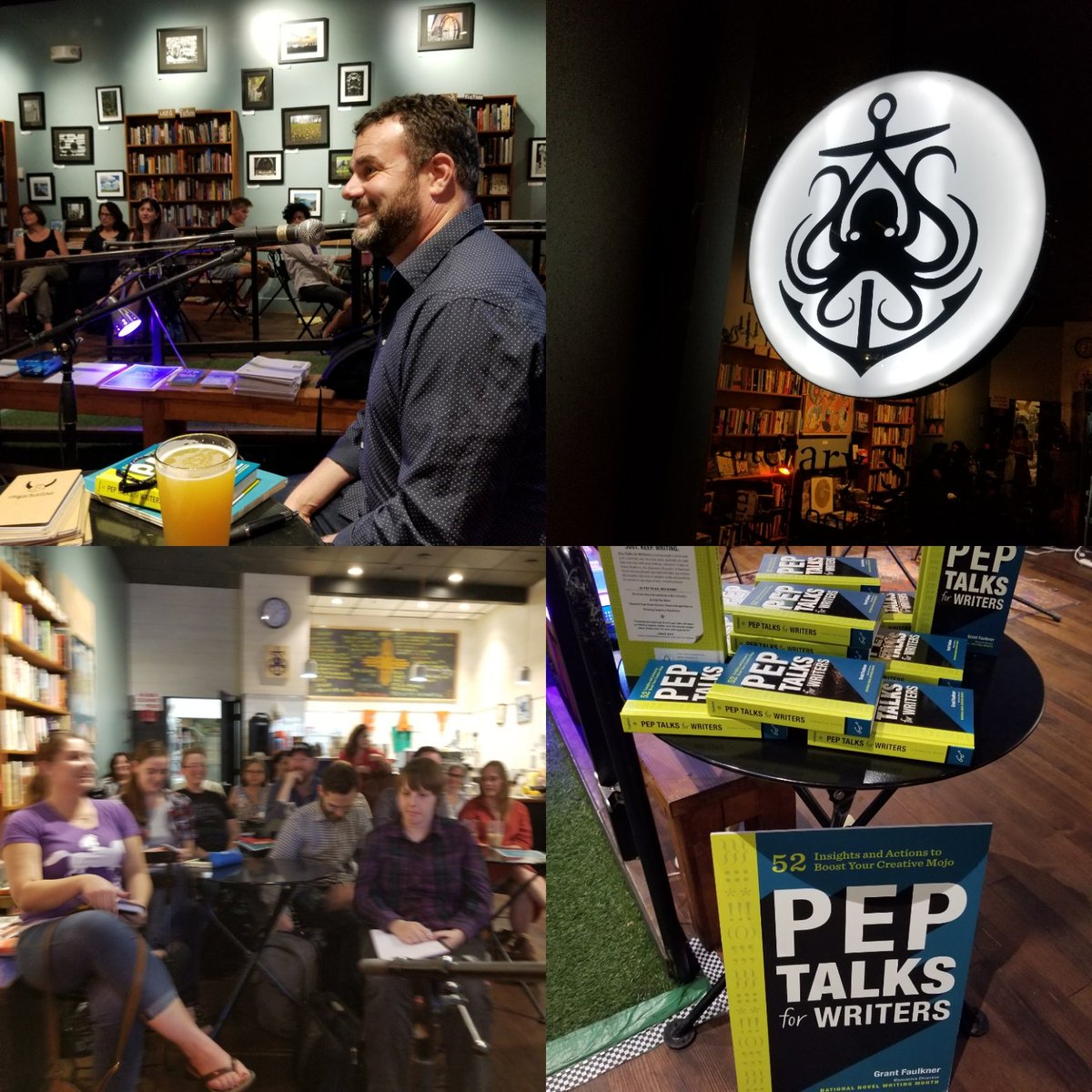 ---
Author Talks at Google
October 17, 2017
---
Left Margin Lit Anniversary Party
Berkeley, CA, October 10, 2017
---
Litquake: The Art of the Novel
San Francisco, CA, October 7, 2017
---
Book Passage: Marin Launch Party for Pep Talks for Writers
Sausalito, CA, October 5, 2017
---
Indiana Writers Center
Indianapolis, IN, September 28, 2017
---
Write on Mammas' Salon
Napa, CA, September 23, 2017
---
Celebration of Best Small Fictions 2016
---
Poets & Writers Live
San Francisco, January 15, 2017
---
Why There Are Words
December 8, 2016
---
2016 Chicago Humanities Festival
---
2016 Writers Digest Novel Writing Conference
---
Litquake: The Art of the Novel
---
In Conversation with J.T. LeRoy (aka Laura Albert)
---
Flash Fiction Collective Reading Series
September 1, 2016)

---
2016 Mendocino Writers Conference
---
AWP 2016: Forming Resilient Partnerships: How Literary Nonprofits, Schools, and Individuals Can Collaborate Effectively
Listen to the session with Joel Arquillos, Benjamin De Leon, Grant Faulkner, and Gerald Richards.
Join 826 National, 826LA, and National Novel Writing Month (NaNoWriMo) as they discuss different strategies on forming partnerships between schools, literary nonprofits, volunteers, and teachers on both a local, national, and global scale, and how these partnerships enable creative solutions for both educators and students. What are the challenges of maintaining these partnerships, and what is their impact on the diverse population of under-resourced students they aim to empower through writing?
---
Litquake: The Art of the Short Story (October 17, 2015)
---
Litcrawl: Press 53 Reading by Bay Area Authors (October 17, 2015)
---
Porchlight: A Storytelling Series (August 21, 2015)
---
2015 Bay Area Book Festival, with Rachael Herron and Chris Baty
---
2015 Oakland Book Festival, with Jenny Offill and Adam Johnson
---
Reading from Fissures: Why There Are Words
---
Reading at U.C. Davis Poetry Night
---
Real-time storytelling with Edan Lepucki, Tope Folarin, and Mike Curato
---
2014 Frankfurt Book Fair
---
ALLi Insights: NaNoWriMo Is Over: Now What? How To Self-Publish Fiction
---
Indie Author Chat