Recent Stories
Notes from One Still Living
Hotel Amerika

That last lunging walk with Gabrielle. A sticky day in New York. We talked of oriental mysticism, alpaca sweaters, anchovies. We listed 99 preventatives for restlessness and solitude, many of them sordid. I posited that there is a strange, enlivening cleansing that can come from a visit to a strip club. She said that solitude is an affliction caused by the proximity of other people. I called her an aesthete. She called me a socialist. I called her a misanthrope. She called me a pud. This is the way we talked. …
Three Micros: Skins, Vapors, The Scar
The Journal of Compressed Creative Arts
If only we could go out back, like when we were kids, and smoke and fool around. Our parents at parties, ashtrays filling up with butts, rumblings of laughter. There was always the question why they wanted us to grow up to be like them. …
Short-Form Creative Writing: A Writer's Guide and Anthology
Bloomsbury Academic

Short-Form Creative Writing is a complete introduction to the art and craft of extremely compressed works of imaginative literature. Short-Form Creative Writing includes an anthology, offering inspiring examples of short-form writing in all of the styles covered by the book, including work by Charles Baudelaire, Italo Calvino, Lydia Davis, Grant Faulkner, Ilya Kaminsky, Jamaica Kincaid, and many others.
With discussion questions, writing prompts, flash interviews, and illustrated key concepts, the book covers prose poetry, flash fiction, micro memoir, lyric essay, cross-genre/hybrid writing, and much more.
Cold Hard Cash
Literary Orphans
His method of saving money was effective. Roll up the bills, stick them in a can of water, stick it in the freezer. That way he'd be forced to think before he spent anything. Think while the ice thawed, think while the money dried.
Two Stories: Model Upside Down on the Stairs and Way Station
New Micro: Exceptionally Short Fiction, W.W. Norton and Company


An addictive new collection of very short stories curated by Flash Fiction editor James Thomas and microfiction writer Robert Scotellaro.
New Micro is a veritable who's who of the increasingly popular world of microfiction. Authors include newcomers and established writers alike: Amy Hempel, John Edgar Wideman, Kim Addonizio, Richard Brautigan, Bonnie Jo Campbell, Stuart Dybek, Joyce Carol Oates, James Tate, and Grant Faulkner among them.
The Passenger
A Book on the Table


In honor of Independent Bookstore Day, this year's story collection, just one of the dozen exclusive literary items only available on Bookstore Day, includes flash fiction from great short story writers including A.M. Homes, Etgar Keret, Celeste Ng, Amy Bloom, and Grant Faulkner. Each story must contain some mention of a book, bookstore, or library.
On the green cover of the photo album was a picture of her, taken in 1972, leaning over the white rail of a ship in a sailor suit with a wide white collar, smiling a diffident smile.
"Before I got married," she said, gently touching the corner of the photo. "When my father took me on the ferry. I'd never even been on a boat before."
Her black cotton dress flowed out from under her and touched the worn sneakers that flapped on her feet. Smiles rarely change, and I tried to read hers. Her thin lips curled generously up her face. A little sad, perhaps. Weary, certainly. But her eyes still made promises.
Gerard and Celeste
Gettysburg Review, Winter 2017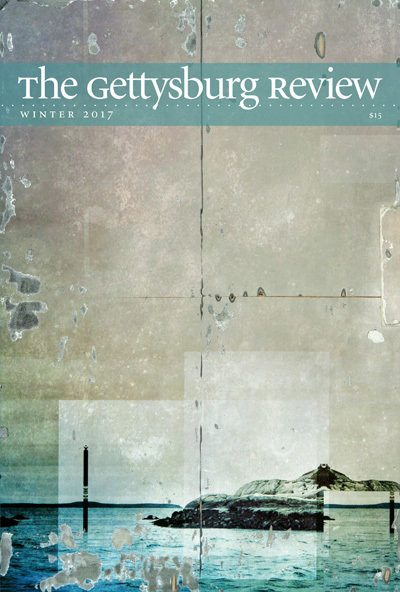 Celeste traced the swirl of cigarette smoke with her finger as it laced through the light that glowed from the lava lamps ringing her bed. As the smoke disappeared into the candy-colored light, she wondered where it went, particles dissipating beyond sight.
She imagined Gerard picnicking with his family, lolling about on a summer day, playing hide-and-seek with his kids. He told her stories about his kids, but she never asked him about them. She didn't want to know about his other life. If he died, no one would call her. She'd go to their hotel room next Tuesday, curse him for not showing up, and then write him an angry e-mail. …
Skins
Flash Frontier, September 2017
If only we could go out back, like when we were kids, and smoke and fool around under the trees. We listened to our parents' parties, their ashtrays filling up with butts, rumblings of laughter. Why did they want us to grow up to be like them? They didn't think we'd mingle with evil. They didn't anticipate inclinations toward torpor. We imagined the husbands loved the wives, boxer shorts and JC Penney bras. But we knew so much more, mosquitoes biting our skin. We knew it's best to stay out of the way, even if there is no way back.
Mademoiselle in the Coffee Shop
Miracle Monocle

She is the kind of person you look at and then keep looking at because you can't quite figure her out, how she fits together, leg bone to hip bone. You look into the elusive glints of her dark beautiful eyes and you listen to her speak (her voice smooth like a summer lake, yet laced with shits and fucks), and although her face has an elegance like an antique porcelain vase and she smiles like she's the one who knows what happiness is, she walks with a clunky gait, the girl who never won the race in gym class, the girl who never had a crush on the high school quarterback. …
The Couplet
Tin House

We drank together for a sonnet's worth of years. Our bible invited toxic ablutions of thirst, tumblers full of prayers. It seemed like nothing could ever be consumed enough. But that's the boring part of the story. …
Foggy

A washed-up Australian blonde, her voice full of old cigarette smoke, her "Down Under" inflections now just a series of raspy trills, sits outside a bar on Mission Street with a cell phone pressed to her ear, struggling to explain what happened, how it seems like she was on that beach just moments ago, wearing a string bikini, lapping up the googly eyes of all of those oggling men. …
Love Letter No. 23


Five Points, Vol. 17 No. 3
Dear ______ ,
I've always looked for useful disappearances even as I practice my rituals of belonging. Lamplight sometimes consoles me in my insomniac hours, but not often. I think of what we wrote in our book of sins and want to tell others not to be afraid to pour wine through the night's darkest hours, yet we know that life is mainly learning how to wait, don't we, or, rather, how to leave? …
The Toad

Best Small Fictions 2016
Flattened by a car, its arms spread out, a little like Jesus. The sun had baked it as crisp as a potato chip.
"Poor toad," Maria said. "Didn't know how to cross the road."
"Maybe he thought the car was a new friend," I said. "Rushing to greet him."
"Or he was puzzling how such a small thing in the distance could become so large."
We spent hours in such conversations. It was nice, how we never talked about what was next, who we were together. As if the toad wasn't part of every story, in its way, even ours.
Shirley Temple

NANO Fiction, Volume 9, No. 1
I sat at the bar, my feet swinging from a stool. Jacksonville, 1972. The adults crowded into a circular booth in the corner. Men pinched women. Women squirmed in squirmy dresses. I smelled the chlorine on my hands as I listened to the cackles of laughter. My father told me I could have as many Shirley Temples as I wanted, but I drank slowly, counting to fifty before taking a single bird-like sip. The cherry bobbed slowly lower in the glass, almost dissolving like candy. I wouldn't eat it until it rested on the bottom. It's good to have rules.
John Cheever's Dinner Guest
Fiction Advocate
Francine was the sort of woman who spoke in clichés, asked the price of everything. "What a charming setting," she said of the dining room. "That highboy was a nice purchase." When the conversation tipped to the topic of travel, she seized the moment to talk about her two weeks in Paris as an 18-year-old exchange student. "There's nothing like Paris," she sighed. We joked that she deserved to be stranded with a broken down car, get chased by a dog, marry a man with Tourette syndrome, something. She waved to everyone, though, unlike us. We couldn't begrudge her that.
Letters from the Crypt
Fiction Advocate
Gerard put all the items in a nondescript box: the letters, the journal Celeste had given him, the post-it notes with secret missives. He wrapped her collage in wax paper like an art curator would. The red swath of fingernail polish, images of a blindfolded woman. He'd written her a long letter interpreting the work, but he'd been beguiled by the woman, dainty yet waiting for a firing squad. Odd to archive torrents of emotions. Packing tape like a lock on an old mortuary. One never opens a crypt, yet the body is always primped and dressed for a ball.
Drinking Martinis in Jelly Jars
Fiction Advocate
"Yooo hooo, yooo hooo," Margery called, her voice ringing through the spruces, as if a runaway dog answered to such a call. George asked himself what call he answered to. The dog, Beau, had dashed off after another dog. They'd gotten him at the pound, last year's Christmas present. "Yooo hooo," Margery sang. Just last night they'd boiled lobsters over a driftwood fire on the rocks. George dozed on the sofa listening to Vivaldi. Rain on the roof at 4 a.m. He counted the women he'd kissed in his lifetime. Twenty-three. Never enough. Go Beau, he said under his breath.
Charms
Fiction Southeast
The sound of quarters dropping into the washing machine at the Laundromat. Things would be clean. The click of my mother's pocketbook opening. Things would be paid for. She tossed her purse into the front seat. We traveled. A man in a midnight suit, starched shirt, narrow black tie. He patted me on the head and took a dollar from my wallet. Dinah Washington's voice on the jukebox didn't sooth. Mom wanted to buy painted scarves from museum gift shops. Her hand gripped the faux crocodile handle of her luggage. Mechanics can never be charmed, but at least she tried.
First Time
New Flash Fiction Review
Gerard sat next to the old woman at the hotel bar, staring at the soft creases around her eyes as if they were exotic etchings. She drank rye, "like my parents did," she said. Summers on Cape Cod. She insisted on turning out the lights when he unbuttoned her blouse. She ran her fingers over his chest as if touching a man for the first time. Nearing 50, now he got to play the role of the younger man. Taut muscles. Years to live. He combed his fingers through her thin, white hair. "Do you believe in ghosts?" he asked.
Us
decomP
Torch agreed to let Bianca drive us there. Our sixteen-year-old daughter who treated us like new hires. The ink still wet on her learner's permit. I stretched out in the backseat, giving what I felt was an Oscar-worthy performance of "Person with Frontal Lobotomy Reading Us Magazine." Torch sat up front, sipping from a 24-ounce Styrofoam cup of coffee, doing his best not to antagonize the beast. He found what worked best was to ask about her out-of-control friend Chloe. …
Six Stories About Gerard and Celeste

(Part of a longer series)
Paragraph Magazine's 100th Issue
After he had children, Gerard saw each person as another's son or daughter. The pinch of worry in a mother's eyes just after midnight. The dreadful, slow wait until the front door creaked open once again. Safety. Or was it? He wanted to tell Celeste he touched her with such care, even as they lay in the strewn sheets of another cheap hotel room. …
Infamy
Fiction Southeast
"When you're fat, it doesn't matter what you wear," Ginny said. "Nothing's going to cover up your blubber." She'd worn tight-fitting clothing and loose-fitting clothing, blacks and browns, stripes and plaids. That July morning, never to be forgotten, she walked through the town square, "buck naked" as Ralph Wyatt told it. She felt the sun on each cell of her body and gloried in the sweat glistening on her arms. She hadn't gone barefoot since she was a girl. Men's eyes followed her as if she were a beauty queen, so she waved with a gentle twist of her wrist.
Other Countries
Carve Magazine, Summer 2014 Issue
Randall told Abigail she looked French. Her dark eyes, the way she held a cigarette, the slender fit of her hips in a skirt. "It's silly to say, but you have a certain Je ne sais quoi." Later she'd think it was just a line: If you tell a woman she looks French, she'll remember you forever. He was so American that way, playing with all of the world's cultures, making them into a sales pitch. "You look like you're from Oklahoma," she told him. But, no, he was really just a little boy wearing his father's cowboy boots, tripping.
Luna

Carve Magazine, Summer 2014 Issue
The nickname Cornflake wasn't exactly complimentary. He didn't know who'd tagged him with it, but it had stuck since the 5th grade. Hard to get dates when you're called Cornflake. He wrote poems about the moon—la lune, he called it—and folded them into Dolores's math textbook. Their legs brushed once, and he spent years wondering if she'd brushed her knee against his on purpose. He told people to call him Frosted Flake, but they called him Cheetos instead. Years passed. He wrote Dolores from Afghanistan. Did she ever find those poems? The moon here, wrapped in burlap. Baddur.
Extravagances
Carve Magazine, Summer 2014 Issue
Frank hadn't bought a pair of pajamas in 23 years. He'd never eaten a rutabaga, or even tasted chocolate mousse, let alone sipped champagne. He'd always wanted to take tap dancing lessons, but tap wasn't pertinent in this day and age, Fred Astaire's footwork akin to Shakespeare's iambic pentameter. He nailed a board over the broken window in his bedroom and put an extra blanket on the bed. An old man deserved to be cozy, especially if no one lay beside him. Cary Grant always wore silk pajamas. He dreamed of a simple nightshirt, a bathrobe. He held Kim Novak in his arms.
Morphine Drip
Green Mountains Review, Spring 2014 Issue
"It's what we remember," Dad said, as if clinging to a frayed thread tossed to a man overboard in a storm. He said something about a boy named Jim, his pants down to his ankles, his tuxedo shirt unbuttoned. Long baby hairs on smooth cheeks. Frogs croaking in the woods, gin rickeys under an August moon, the violet night. Outside a few parked cars, inside the ruckus of others. "Never underestimate the comfort sin can provide," he said. "A lifetime of bedtime stories all to your lonesome." Skin crinkled around his eyes. His dry lips pressed feebly around a straw.
The Other Side

Green Mountains Review, Spring 2014 Issue
The document posted on her door was written in an obscure language. The first time Maeve looked at it, she saw the words, "You owe me," but then there was a poem about a bee in the shape of a bee. She waited for ghosts to appear to translate. Insects filed under her door at night. It's the uselessness of it all that is useful, a husky voice whispered. The sound of ice in her grandmother's tumbler of rye. A body turned beside her in bed. She understood herself as vapor, larva in a bean, developing superpowers. Never before again.
The Toad
Green Mountains Review
Flattened by a car, its arms spread out, a little like Jesus. The sun had baked it as crisp as a potato chip. "Poor toad," Maria said. "Didn't know how to cross the road." "Maybe he thought the car was a new friend," I said. "Rushing to greet him." …
Bright Mess
Superstition Review
Z. lived in a boxcar that resembled a fairyland. Scarves, buttons, burn marks on the velvet of an armchair. Her nose, a hawk's. Her eyes, swirls of shining ice. Her arms, rubber bands. …
Three Sudden Fictions: Chiclets, The Innocent, and Decorations
Metazen
Celeste sometimes wondered if she was contributing to the ruination of married men. Tiny gold promises wrapped around fingers. The exchange of glances was so easy to understand that it always surprised her when men failed to comprehend the arithmetic. …
Four Stories about Celeste
(Part of a longer series)
Connotation Press
Celeste slowly ripped the collage Gerard had given her. She ripped through a woman's bodice, a faded lotto ticket, gold sprinkles becoming unmoored from the black paper and floating to the ground. She plucked off the dainty pink feather and twisted it in her fingers. …
Bodies at Risk in Motion
Green Mountains Review
As he undid his belt, his erection snuck over the top of his white underwear. Zabeth saw his khaki-colored life fade away, the man of rules breaking the rules. A shopping mall bathroom. She looked at his gold wedding ring, wondering if he was there with his family, a teenage daughter. …
Blue Highways

Puerto del Sol, Fall 2013
Sal often missed highway exits. Perhaps because he was dreamy, perhaps he just trusted that the road he was on would get him where he needed to be. He was surprised when he returned home one day and discovered his wife had left him. He called her cell phone, but she'd stopped her service. Her closet was empty except for the dresses he'd given her. On the closet floor was a collage she'd made titled "The Places He'll Never Take Me." For her 40th birthday, he'd put on a gaudy cape. He'd tried to pick her up in his arms.
Mr. American
Digital Americana, Fall 2013
Will looked through the gap in the soiled floral drapes, forgetting the girl and her drunken ribaldry for a moment. The hotel lay at the edge of New London in a no man's land between farmland and the highway heading to Des Moines. A slanted barn lay sketched on a hill covered with a scrim of snow. Cows ate the scrubs of cornstalks in a field nearby, and a solitary tree, speckled with the last frazzled leaves of autumn, clawed at the sky. …
Castings
Counterexample Poetics
A resistance to spontaneous modes of imagination. A disdain for sultriness. Tattered underwear. Every marriage has its own legalities, and these were Anthony's claims for divorce. …
Grey
Counterexample Poetics
Wendy wore a sleeveless dress split vertically down the middle, black on one side and white on the other side. We smoked Marlboros in my parents' basement while waiting for Mark, her boyfriend, my friend, to get off work. …
The Tenderloin, 1997
Counterexample Poetics
The walls slobbered, the ceiling hovered, drooping close to Trevor's nose. His bedside lamp retched rays of light. Pink window shades, urine-yellow wallpaper. In the flowery dapples of sun on the carpet he tried to see the dance of a girl's smile. …
Dear X
Flash Flood
Dear X,
I loved you more than anyone could.
Love, Y
Dearest Y,
Funny. I didn't realize that. How are you?
Best, X …
Filter
The Cortland Review
When Rex thought of Claudia, he felt like a cheerleader with Tourette's Syndrome. Words exuberantly chased each other from his mind to his mouth, bounding and yelling with glee. The barbs of the tattoos on his biceps melted and dripped. …
The Filmmaker: Eight Takes
Eclectica
Alexander walked with the slovenly grandiosity particular to an underground filmmaker, his body at once large and commanding, soft and round. Puffy eyes. Grizzled disregard. …
Model Upside Down on the Stairs
PANK
"A woman's beauty can be her damnation," her mother said. …
Life Knowledge
Revolver
She searched for the perfect place to live. She changed her name from Clara to Claire. She drank one too many cups of coffee and then one too few. She painted antiques, then learned how to play the banjo. …
Climbing
Fiction365
We sat by the fire, everyone planning ways to change their lives. I couldn't count the number of times I'd planned such things, but I could count the number of times I'd succeeded. …
The Names of All Things
The Southwest Review
Hills shimmered like quartz in the heat. One-street towns sidled up against the highway, each skyline nearly the same: a Texaco, a ramshackle convenience store, a McDonald's, and a used auto dealer or two. Motels promised hot showers, cable television, air conditioning, free coffee, and a swimming pool for only $39.99. Jim's sunglasses made everything soft and green, as if the world was made of pillows. …
Heat
Word Riot
She had some spare change left over from a fake disability claim from her last job, and he'd begun to sell his things: an antique table his mother had given him, his CDs, his guitar, and then finally the gold wedding band he found one day in the sand at the park. …
Theories
Used Furniture Review
"Time's not space, it's just measured in space," I said. "You go from here to there. That's time. Kinda fucking funny that without space we wouldn't have time?" They weren't listening. Gina and Mike played euchre like they did every night, sitting Indian style on the middle of the floor in the trailer. …